Awards 2012 - Choice Exotica
WINNER: MartinLogan Ethos
WINNER
Whereas so many high end speakers are simply variations on the same 'moving coil drive units in a box' theme, MartinLogan dares to be different with its artful combination of conventional sub-bass drivers and large, full range electrostatic panels. The result is musical bliss, with vast soundstaging and subtlety so rarely heard, even from expensive designs such as this. A worthy winner!
DETAILS
Price: £6,498
Contact: 020 8971 3909
Web address: martinlogan.com
Review issue: 359
Runners up
Dali Epicon 6
Clever design lifts this premium floorstander to sonic heights!
DETAILS
Price: £7,800
Contact: 0845 644 3537
Web address: dali-uk.co.uk
Review issue: 365
Claro Clarity Dual
Superlatively built high-end turntable with a delightful sound to match the best
DETAILS
Price: £3,720
Contact: 01423 867413
Web address: claro-audio.co.uk
Review issue: 356
CURRENT ISSUE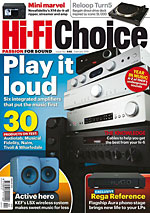 Click
here
to see what's inside Hi-Fi Choice February 2019.
KEF LSX wireless speaker system, Rega Aura MC phono stage, Naim ND5 XS2 networked music player, Reloop Turn5 direct-drive turntable, Falcon Acoustics RAM Studio 20 standmount loudspeaker, plus a six-way integrated amplifiers Group Test and more!
CURRENT ISSUE PLAYLIST
Standout tracks from our
Music Reviews
section, plus our current favourites to play in the
HFC
office.