Bowers & Wilkins unveils new 700 Series
New loudspeaker line utilises trickle-down technology from the 800 Series
Earlier in the summer, we visited B&W's impressive facility in Worthing (see Insider Feature in the October issue, on sale 14 September) to preview a new mid-priced series of loudspeakers being kept under wraps until now. The range, called the 700 Series, replaces the long-running CM Series with six new stereo models – three standmounts and three floorstanders – plus two dedicated centre channel models for fans of multi-channel setups.
Unsurprisingly, it draws on the considerable expertise and technology established in the company's well-regarded high-end 800 Diamond Series and so employs Continuum midrange drivers. A new version of the Aerofoil cone has also been developed, but the 700 Series design uses paper rather than carbon fibre skins with an EPS filling material adopted instead of syntactic foam.
The series introduces an entirely new Bowers & Wilkins tweeter technology in the form of the Carbon Dome –
a two-piece alloy/carbon tweeter claiming exceptional stiffness with low breakup distortion that's fitted into
the 'tweeter-on-top' flagship 702 S2 floorstander (pictured) and 705 S2 standmount. The solid housing for these models is milled from aluminium rather than zinc, but has the same decoupling and grille design as the 800 series. The same 25mm tweeter is fitted into the cabinet on all other models in the 700 Series.
First up, the 707 S2 is a two-way standmount with a 130mm mid/bass driver costing £799, while the larger 706 S2 standmount is equipped with a 165mm mid/bass driver for £1,099.
The 704 S2 and 703 S2 floorstanders are three-way configurations costing £1,999 and £2,399 respectively. The 704 has a 130mm midrange with 2x 130mm Aerofoil bass drivers and the 703 has a 150mm midrange and 2x 165mm Aerofoil bass drivers. The aforementioned tweeter-on-top 705 S2 standmount comes with a 165mm mid/bass driver and the 702 S2 floorstander has a 150mm midrange partnered with 3x 165mm Aerofoil bass drivers. They cost £1,799 and £3,299 respectively.
All 700 Series speakers are available finished in gloss black, satin white or rosenut. The matching FS-700 S2 speaker stands cost £399. Click here to find out more.
CURRENT ISSUE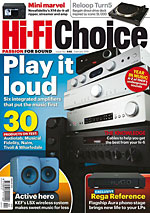 Click
here
to see what's inside Hi-Fi Choice February 2019.
KEF LSX wireless speaker system, Rega Aura MC phono stage, Naim ND5 XS2 networked music player, Reloop Turn5 direct-drive turntable, Falcon Acoustics RAM Studio 20 standmount loudspeaker, plus a six-way integrated amplifiers Group Test and more!
CURRENT ISSUE PLAYLIST
Standout tracks from our
Music Reviews
section, plus our current favourites to play in the
HFC
office.