Cabasse Stream Source - £299
The Cabasse Stream Source is a neat hub that unleashes music from networked devices. Lee Dunkley checks out its style
French loudspeaker company Cabasse is a family-run firm of long standing that has a considerable following on its own turf, but is much less known in the UK. If you do know of the Cabasse name at all then you will be more likely to know it for its extensive range of traditional hi-fi loudspeaker designs, as well as its artful lifestyle products including the L 'Océan and La Sphère point source/coaxial driver flagship models.
The company has more recently branched out into the world of networked systems, with the introduction of three Stream products. The first Stream model to launch was the Stream 3 system, which we saw back in the October issue (HFC 376) last year, combining music streaming inside a compact and swish sub/sat speaker package.
The little device on test here is the natty looking Stream Source, which is deigned to add networked music and Bluetooth streaming capabilities to an existing hi-fi system. The pebble-shaped 'hub' will fit unobtrusively into any system and is finished in gloss black. Unlike the two-speaker models in the Stream range, there is no gloss white finish. Bluetooth with aptX connectivity is built in to link with music from a tablet or smart phone device, as well as instant connection via close proximity NFC (Near Field Communication) to compatible devices.
At the loftier end of its capabilities the Source can accommodate music files up to 24/96 and handles the usual list of lossy and lossless MP3, WAV, WMA, AAC, AIFF, ALAC and FLAC music file formats. These are the basic requirements for any music streamer jostling for position in today's market, and both wi-fi and Ethernet capabilities provide the best of both worlds to connect with your wireless router and access music devices across your home network.
Audio output connections come in the form of stereo RCAs and optical S/PDIF connections at the back of the unit. Built-in DLNA software enables music stored on any connected USB stick or hard drive to be instantly made available across the network for playback on any other networked Stream players, like the company's Stream 1 (£499) or aforementioned Stream 3 sub/sat speaker system.
Take control
Touch sensitive controls are positioned on the top surface of the unit providing source selection and volume level adjustments, as well as showing the hub's connected status indicated by the colour of the illuminated icons. A smaller pebble-shaped handheld remote control is provided, duplicating the controls found on the Source unit, but the lack of a front panel control makes it of limited use. To navigate the Stream Source's main functions you'll need to download the Cabasse Audio Control app freely available for both iOS and Android devices. It has a pleasing tabbed approach and once installed and connected to your home network provides access to music stored on connected devices. Setup is straight forward and the wizard approach to getting my iPad communicating with my networked music and controlling the Source was a very simple process following the logical step-by-step onscreen guides.
You can create playlists and even adapt your own multi-room streaming options using the Zone facility, allowing you to link wi-fi-connected Stream models around the home and pipe synchronised music to each simultaneously, name and make groups or play different music through each Stream unit. Third-party music streaming services from vTuner and Deezer are also onboard, and the app works seamlessly across all devices switching between music found on my media server or on the USB stick plugged into the back without any glitches. It's intuitive to navigate, but there doesn't appear to be any way to see the incoming bitrate for the tracks streamed from my music library or third-party streaming services, and more information on the quality of the incoming streams would be a useful feature to add to any future update.
Sound quality
From the moment I get the Cabasse Source connected to my network and randomly select a first track to play from my music library to check that everything is working as it should, I know I'm in safe hands with the audio capabilities of the little Source hub. With the unit connected to my router via Ethernet and the analogue RCA output connected to my preamplifier, I get an open and detailed sound with a 16/44 rip of Lorde's Royals. Bass is strong and powerful, filling the room with a sense of depth that demonstrates the Stream Source's considerable capability at digging out identical levels of detail as found on the original CD.
It's only in the upper mid and treble details that you hear any differences at all. Leading edges have a hint of brittleness to them, and vocals and instrument placements aren't quite as clearly defined in the mix, though these are very minor quibbles of what is an otherwise impressive performance from the tiny box.
Play a 24/96 ALAC file of Goldfrapp's Clay and the Stream Source still shines, although the performance isn't quite as polished as perhaps it should be. There's a slight audible drop in resolution, and the track feels less of a whole than I'm used to. Further investigation reveals that it's actually being output at 16-bit/96kHz, which Cabasse says is necessary for reliable streaming of hi-res material over domestic wi-fi. All the elements are retained, it's just a little less three-dimensional in its presentation and I'm not able to hear quite so easily into the recording. As the bass line builds, the synths appear to be less well lit in the way it presents the image across the plane of the speakers, making it just that bit less engaging. Vocals are soft and ethereal, but there's less of a feeling that Alison Goldfrapp is stood before me in my listening room.
Wires are always considered to be best in hi-fi circles, but I also check out the performance over wi-fi, which is remarkably solid with all material streamed over my network.
Cabasse has joined forces with fellow French company Deezer for its streaming services app, providing access to over 30 million tracks. The app integrates well with the Stream Source and a quick flick to select Bluetooth input mode and the Stream Source selected as my connected device in the Bluetooth settings menu on a tablet or smart phone means that I'm up and streaming tunes in next to no time. Deezer's back catalogue is very respectable and I manage to dig out some yesteryear Scott Walker tunes and stream them via Bluetooth to the Cabasse, and it's hard to believe from the very respectable quality that they were recorded over 40 years ago.
Conclusion
The Stream Source is a slick device that channels all your networked music effortlessly to your hi-fi. Its flexible, easy to get to grips with, and a streaming bargain at the price.
LIKE: Impressive sound; straightforward setup and interface
DISLIKE: Poor instruction manual, but nothing else at the bargain price
WE SAY: A flexible streaming hub that neatly centralises networked music
DETAILS
PRODUCT Cabasse Stream Source
ORIGIN France
TYPE Digital music hub
WEIGHT 0.5kg
DIMENSIONS (WxHxD) 230 x 40 x 140mm
FEATURES
• Ethernet and wi-fi network connection l Bluetooth with aptX and NFC compatibility
• Wolfson 24-bit/96kHz DAC
• Playback support for MP3, WAV, WMA, AAC, AIFF, ALAC, FLAC
DISTRIBUTOR Cabasse
TELEPHONE +33 (0) 298 058814
WEBSITE cabasse.com/en
CURRENT ISSUE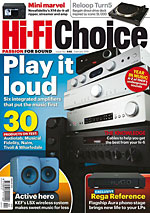 Click
here
to see what's inside Hi-Fi Choice February 2019.
KEF LSX wireless speaker system, Rega Aura MC phono stage, Naim ND5 XS2 networked music player, Reloop Turn5 direct-drive turntable, Falcon Acoustics RAM Studio 20 standmount loudspeaker, plus a six-way integrated amplifiers Group Test and more!
CURRENT ISSUE PLAYLIST
Standout tracks from our
Music Reviews
section, plus our current favourites to play in the
HFC
office.