Focal unveils new Kanta No2 loudspeaker
New floorstanding speaker combinies tech from existing models to create a design that promises to delight both the ears and eyes
Beryllium and Flax are not materials usually associated with one another, but that might be set to change with the announcement of Focal's all-new speaker called Kanta. Unveiled at a press conference back in September, the loudspeaker from the French manufacturer slots in neatly between its Aria and Sopra ranges. As with its existing models, it is handmade at Focal's manufacturing plant in Saint-Étienne, and marries concepts seen in both these designs while introducing a few new ones, too.
The £6,999 Kanta No2 is a three-way floorstanding speaker. Its two 165mm bass drivers are joined by a dedicated midrange unit, also 165mm in size, and placed in its own enclosure. All three drivers are made from the same flax composite that we first saw in the Aria models, developed to be a more cost effective option than the composite designs used in its high-end offerings. This suspends a thin layer of flax in a sandwich between two thin sections of glass fibre. Focal says this ensures high levels of damping and minimal colouration. Furthermore, each driver is fitted with what it calls a Neutral Inductance Circuit (NIC), designed to stabilise the magnetic field around the driver and improve definition.
Partnering the flax composite main drivers is the latest version of the company's beryllium tweeter, and Focal claims that these two very different materials combine to produce a sound that is "acoustically invisible". The IAL 3 tweeter in the Kanta No2 features all of the recent refinements to the design including the Infinite Acoustic Loading (IAL) and Infinite Horn Loading (IHL) systems that were originally developed for its flagship Utopia series of loudspeakers.
The cabinet construction is new and different to any Focal model we've seen before. It has been designed to reduce the cabinet volume for space reasons without compromising the performance of the speaker. This means that the front of the cabinet is made from a single-piece moulding of High Density Polymer (HDP), which is shaped exclusively with rounded edges to reduce the diffraction. This is joined to the rear section that's made from high-density ply with internal bracing for added rigidity. An elegant glass plate adorns the top of the loudspeaker, and it comes with magnetic grilles. The cabinet is supported by a Zamac adjustable base, allowing it to be easily levelled. It's available in black gloss or wood veneer finishes with four colourful matt or gloss front panel options.The Kanta No2 is available to buy now and you can find out more about it at www.focal.com/uk/.
CURRENT ISSUE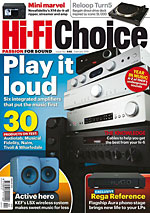 Click
here
to see what's inside Hi-Fi Choice February 2019.
KEF LSX wireless speaker system, Rega Aura MC phono stage, Naim ND5 XS2 networked music player, Reloop Turn5 direct-drive turntable, Falcon Acoustics RAM Studio 20 standmount loudspeaker, plus a six-way integrated amplifiers Group Test and more!
CURRENT ISSUE PLAYLIST
Standout tracks from our
Music Reviews
section, plus our current favourites to play in the
HFC
office.