Technics reprises SP-10
Japanese manufacturer reveals flagship Reference Class SP-10R direct-drive motor unit at IFA, described as its most premium turntable to date
If proof were needed of vinyl's return as a mainstream format, then Technics' comeback with the reimagining of its legendary SL-1200 turntable in 2016, was a powerful symbol of just how popular the music format has become. Technics ceased production of its turntables back in 2010, which lead to protests from its loyal fans around the world. Seemingly, someone at Technics was listening, as the iconic turntable returned in a redesigned limited-edition SL-1200GAE form last year and was so popular that several incarnations have since followed, broadening its appeal to new fans at more accessible price points.
It seems nothing can stop the company's passion for the vinyl format, and the star of this year's IFA show held in September to the delight of many audio fans was the announcement of a flagship SP-10R turntable motor unit expected to be released in summer 2018. On display at the Berlin show for the first time in its prototype form, the SP-10R boasts a brand new direct-drive motor with extra-heavy platter to deliver superior sound quality. Technics says that a complete turntable system based on the SP-10R motor unit with a tonearm and other components is also planned for release in the not-too-distant future.
Originally launched in the seventies, the SP-10 was the first to use the direct-drive motor system, and came to be admired by audiophiles and broadcasting industry professionals alike around the world during its two-decade lifespan. Technic's tells us that the new turntable will be interchangeable with systems using its SP10MK2 deck released in 1975, and the SP-10MK3 released in 1981.
The company says the new Reference Class deck is its most cutting-edge model to date, using advanced digital and analogue technologies to achieve the lowest measurements for wow and flutter and best rotational stability of any of its turntables. It features a brand new, coreless direct-drive motor which, in addition to the two-sided rotor drive system that was used in the SL-1200G, boasts stator coils on both sides of the rotor for a more powerful and accurate sound. The platter is similar to the SL-1200G, and is a three-layer structure consisting of brass, aluminium die-cast and deadening rubber, and weighs 7kg.
A new outboard switchmode power supply is used to further reduce noise and is separate from the main turntable, preventing unwelcome interference from being transmitted to the main unit, for superior sound. The SP-10 is expected to be available in Summer 2018 for around €10,000. For more information visit technics.com.
CURRENT ISSUE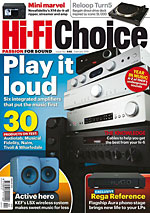 Click
here
to see what's inside Hi-Fi Choice February 2019.
KEF LSX wireless speaker system, Rega Aura MC phono stage, Naim ND5 XS2 networked music player, Reloop Turn5 direct-drive turntable, Falcon Acoustics RAM Studio 20 standmount loudspeaker, plus a six-way integrated amplifiers Group Test and more!
CURRENT ISSUE PLAYLIST
Standout tracks from our
Music Reviews
section, plus our current favourites to play in the
HFC
office.