Webwatch July
HFC reveals the best hi-fi websites, social media and online content to fuel your passion for sound
Turntable how-to
Made completely by hand in its factory in Southend, the RP8 remains one of Rega's flagship turntables. In this fascinating video, Rega's Simon Webster talks us through the surprisingly complex procedure video from construction to testing. Watch the magic happen here.
Ebay made easy
Buying on ebay can be fraught with difficulties from being out bid at the last second to being disappointed with what you receive. This excellent guide for vinyl buyers provides invaluable advice to ensure that you don't invest in a dud.
Turn back time
Back in 1998 if you wanted to listen to music on the move, chances are that you owned a single-purpose portable player like Sony's Discman. This affectionate feature from music website Pitchfork looks back to a time when carrying hundreds of tunes in your pocket was a sci-fi fantasy. See for yourself here.
Trouble shooter
Owners of Linn products seeking help and advice or interested in picking up tips from fellow users should steer their browser towards the excellent forum on Linn's website. From installation and configuration guides to discussion groups, there's something for everyone, click here for more.
Thank you for the music
A love of music is pretty much a requirement for Cyrus' employees, so it comes as no surprise to learn the company loves to share its playlists with the world. Tidal subscribers are advised to check out its latest compilation here that was put together especially for the Munich High End Show.
Talking stamps
In 1972 Bhutan issued a series of 'talking' postage stamps featuring folk songs printed on vinyl. Highly collectible (selling for up to $495 on ebay), the tiny single-sided stamps played at 33rpm and could be stuck to an envelope like a regular postage stamp. Hear them for yourself here.
CURRENT ISSUE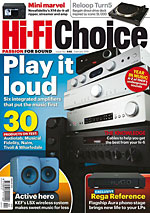 Click
here
to see what's inside Hi-Fi Choice February 2019.
KEF LSX wireless speaker system, Rega Aura MC phono stage, Naim ND5 XS2 networked music player, Reloop Turn5 direct-drive turntable, Falcon Acoustics RAM Studio 20 standmount loudspeaker, plus a six-way integrated amplifiers Group Test and more!
CURRENT ISSUE PLAYLIST
Standout tracks from our
Music Reviews
section, plus our current favourites to play in the
HFC
office.