February issue on sale now!
Welcome
Audio products with more than one function used to be derided by serious audiophiles. Think music centres in the seventies combining record player, cassette deck and FM radio tuner that took up most of the sideboard, and were often too easy on the pocket and not so easy on the ear.
A dedicated component that's built for a specific audio task has always been the audiophile approach, but the all-in-one music system looks to be making a bit of a comeback in 2019. Take a look at KEF's LSX wireless music system reviewed in this month's In-Depth. It's an entirely different approach to the music centre setups many of us remember from the heyday of hi-fi, and very much the direction of products emerging today with amplification and network streaming built into a remarkably cute set of speakers that have the sonic clout that's a world away from its forbearers.
Novafidelity's X14 also reviewed in this issue takes a different all-in-one approach and is a mini music system that offers impressive network streaming, ripping, storage and amplification capabilities in a very neat box for less than £700. All you have to do is add speakers.
In this month's amplifiers Group Test the six models priced between £600 and £800 reflect the different options that make up today's integrated market place. Some offer analogue inputs only, while others offer digital and numerous extra facilities. Read our nine-page test to find out which is best suited for your requirements.
Also inside the February issue: exclusive review of Rega's Reference Series Aura moving-coil phono stage, Kerr Acoustic's K320 floorstanding loudspeaker and Naim's ND5 XS2 networked music player. Plus, Music Legends celebrates the career of Bruce Springsteen and Dealer Visit heads to the new premises of Signals Hi-Fi in Ipswich.
Lee Dunkley, editor
CURRENT ISSUE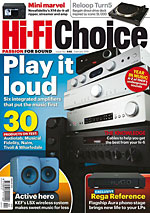 Click
here
to see what's inside Hi-Fi Choice February 2019.
KEF LSX wireless speaker system, Rega Aura MC phono stage, Naim ND5 XS2 networked music player, Reloop Turn5 direct-drive turntable, Falcon Acoustics RAM Studio 20 standmount loudspeaker, plus a six-way integrated amplifiers Group Test and more!
CURRENT ISSUE PLAYLIST
Standout tracks from our
Music Reviews
section, plus our current favourites to play in the
HFC
office.